Dangerous Inspiration
Synesthesia alters detective-turned-novelist Ronan Mezini's perceptions. But can it help him find the killer?
Detective-turned-novelist Ronan Mezini has skewed perceptions because of a condition called synesthesia, which for him transforms sounds into colors. These visions give him unusual insights that help him solve the case. So when a collection of eccentric — and possibly violent — creative people come together at an elite artists' colony in rural Vermont, murders occur in rapid succession and suspicion falls on everyone as Mezini unearths the founding family's secrets.
Trade Paperback Editions
Hardcover Editions
Digital Editions
Call for Submissions
"We Fear Not the Sea"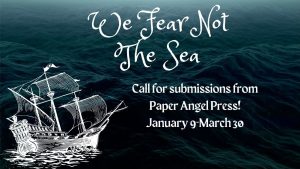 This is a Call for Submissions for "We Fear Not the Sea", an anthology of stories inspired by sea shanties.
Each tale should be based on, or somehow incorporate, one sea shanty and include a speculative element of some kind. Give us your adventures with ghosts, sea monsters, and mermaids! Put us in the salty sea boots of sailors, whalers, pirates, and privateers!
| | |
| --- | --- |
| Open for Submissions: | January 9, 2023 through March 30, 2023 |
| Expected Publication: | June 2023 |
For more information, see Call for Submissions: "We Fear Not the Sea".