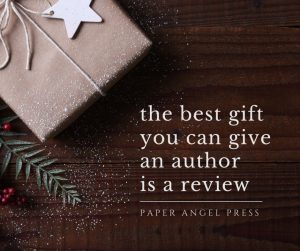 During this holiday season, when you're looking for the perfect gift for that author friend or family member, here's something that will fit every budget:
Leave a review.
There are a lot of important business-related reasons why leaving reviews is important to a book and author's success. (We discuss these in detail on our blog.) The most important part:
Leave a review.
For authors and books, the two most important places to leave reviews are Amazon and Goodreads. You can even post the same review in both places!
Did you know:
Give the author in your life the perfect gift for the holidays.
Leave a review.
There is a size that fits every budget — and you don't even have to gift wrap it!